Graduates
The Blue Mountains Permaculture Institute has graduates in Asia, Europe, Africa, America, New Zealand and Australia and we have recently been contributing to courses internationally via Skype. The Institute is in the process of building a Graduates Register of all our students who have successfully completed the Permaculture Design Course, the Teacher Training Course, or who have been the recipients of a Permaculture Diploma by the Institute. Our first Diploma Graduates (pictured above) were Didier Assama Alain (Cameroon) and Lachlan Mckenzie (Darwin/East Timor).
We are now in the process of gathering information from all Institute graduates on permaculture outcomes since they graduated from courses taught by Rosemary Morrow and/or Lis Bastian. If you are not yet on the register, if you need to update contact details, or to give us information about what you've been doing since you graduated, please contact us.
You can send information via our Contacts page.
Teacher Response after Skype Teacher Training Course to Miami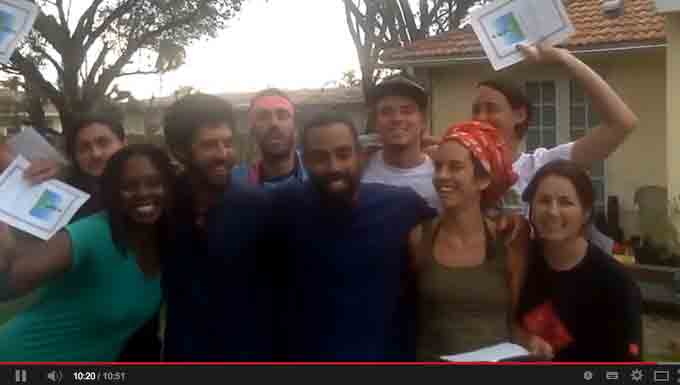 Click on the image above to view the graduates of the Skype teacher training course from Australia to Miami.
Feedback:
"As a philosophy student I have been keen to think for many years that learning is something we do analytically. I remember how disconnected I was to the depth of understanding that was being revealed to me by Rosemary Morrow's teaching. It was not until my second teacher training, partly being facilitated by me, that I had a very direct experience and revelation of how important many learning styles, teaching methods and teachers ethics can facilitate excellent apprehension of the permaculture concept.
Each course I took with Rosemary lead to leaps and bounds in my creativity and my connection to the revolution of permaculture and its participants. I have expanded my confidence to teach several times over and acknowledge my ability to continually grow on this path as a permaculture teacher. Deep Gratitude to you Rowe."
Marcus (Déva) Thomson http://permaculturemiami.com