A water design for every farm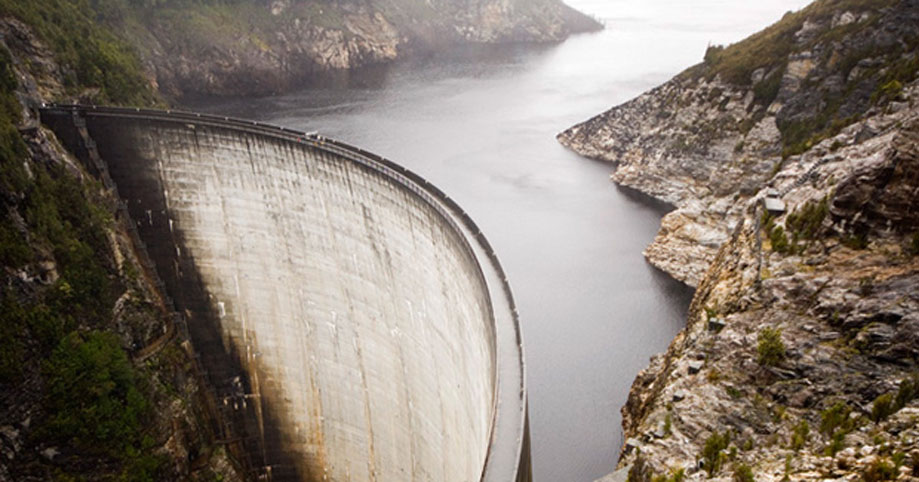 From Australian Geographic 2008:The 140-m high Gordon Dam in Tasmania  (Photo: Matthew Newton)
The Federal Agriculture Minister recently  released a green paper on agricultural competitiveness which listed 27 dams and irrigation projects across the country that could warrant possible Commonwealth involvement.
This in an age when we are moving into climate change?
As the Government moves to control and centralise water, it is in direct opposition to a key permaculture principle: to distribute resources as evenly as possible, and as locally managed as possible.
The Government will take submissions on the green paper until December 12.
Centralisation of resource and oversupply of resources result in pollution, and undersupply results in work. For example, centralisation of energy supply into too few big hands  has a multitude of negative aspects such as: no community control, no interest in reducing usage, ill-distributed work opportunities, control from the top, increasing prices, desperate pollution, undesirable mining, abuse of farm land, unnecessary or even necessary maintanance, security issues, over construction of the network …. well, you know the rest as you look at your recent bill. Distributed solar panels (and we Aussies love our solar panels) avoid most of the problems that flow from centralisation of resources.
And it is the same for water….
For more than a decade the world has moved away from dams and towards empowering farmers through water harvesting and improved land management – connected with appropriate crops, shelter belts, pasture cropping, cell grazing and buffering climate change and extremes through farmer education.   Rivers have been restored, and wildlife encouraged.   We started to look as if we had a coherent policy for long term land use through building on-farm resources of water, soils and trees.
Now … back to the 1950's.   Where did these policy designers go to school? Are they all men who hanker for the Snowy River Scheme which has cost millions, and untold natural wealth to undo the damage which can never perfectly be restored.
A cursory look at the cradle-to-cradle cost of building dams starts with surveys and resident opposition. From then it is destruction:  mining, trucks, big machines, road destruction, road accidents, air and noise pollution, petrol consumption, land acquisitions, and wildlife losses at the moment when biological diversity is under so many other threats.    Then take the time and cost of the dam itself.   The lost use of that land.   And to deliver the water – pipes, electricity, bills to farmers and others, leaks, failures, more security issues, enormous evaporation, struggle over water access policies. And somehow politicians always know some directors of the big transnational firms taking the money offshore.  And from risk of drought a dam has to be constructed seven to ten times larger than the estimated highest rainfall … simply to account for evaporation.
There is a book to be written about their negative impacts on wildlife:  rivers, nesting, pollution, flow, habitat, edge species and you can finish this list  …..
And what is the alternative?  We know what to do.    Look at what permaculture offers. A nation wide program for farmers, and enlisting farmers as teachers and experimenters to make designs for their land, of which their first work is a total water audit, and then the implementation of water harvesting for the predicted climate changes.   Farmers could share in the money alternatively used for megadams, to reshape their land – to create swales, to use agroploughs, to assess their crops as climate changes, to create wildlife corridors and shelter belts.   Every farmer can do this.   Every farmer can contribute to a restored Australia.   Farmers derive great satisfaction from doing this.  They love their land and they love this creative work.
Say "No" to big dams and yes to permaculturally sensitive farm designs.
Australia needs a water design for every farm. To read the Green Paper, or provide a submission in response, visit: